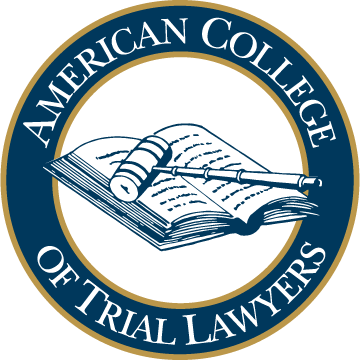 SAVE THE DATE
Special CLE for litigators presented by
The Fellows of The American
College of Trial Lawyers (ACTL)
Proudly Co-Sponsored by
Sandra Day O'Connor College of Law at Arizona State University,
University of Arizona James E. Rogers College of Law
and CLE West
Trials in a Radically Changing World:
Views from the Pit and the Bench
Friday | May 20, 2022 | 9:00am - 5:00pm
at the Sandra Day O'Connor College of Law at Arizona State University, Downtown Phoenix
This seminar may qualify for up to 6.5 hours MCLE, including 2.5 hours of Ethics.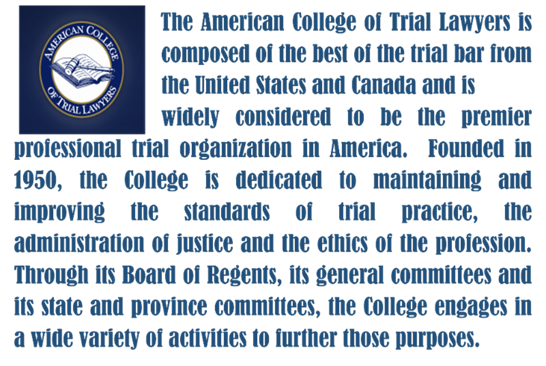 ACTL Fellows represent the top 1% of the lawyers in the US and there are few chances to learn from lawyers of their caliber. You won't want to miss this opportunity.
Trial Lawyers Want to Win at Trial – But at What Cost?
This seminar will explore winning tactics at trial and also expose the audience to ethical and professional issues which will enhance your success with professional and ethical presentations. Listen to some of Arizona's best trial lawyers and judges discuss what resonates with jurors and the court. Learn what you can and cannot argue and the ethical pitfalls to avoid.
PROGRAM

I. Theme Development: Start to Finish

The presentation will show how successful lawyers develop a theme for their case and follow through from discovery/disclosure through trial. It will also address the use of jury consultants and thinking outside the box.
PRESENTERS:

Reid Garrey
Evans Garrey, PLLC
Joseph Mais
Perkins Coie, LLP
Tom Shorall
Shorall McGoldrick Brinkmann

II. Jury Selection: the Abolition of Peremptory Challenges



This presentation will address the abolition of peremptory challenges and the effects it is likely to have on the decisions judges will make as well as the strategies lawyers should use in jury selection.

PRESENTERS:

Hon. Jeffrey Bergin
Pima County Superior Court
Hon. Katherine Cooper
Maricopa County Superior Court
William Sandweg
Sandweg & Ager, PC
Thomas Slack
Beale Micheaels Slack Shughart, PC
Georgia Staton
Jones Skelton & Hochuli, PLC

III. Has ADR Replaced the Jury Trial?



This presentation will discuss current trends in alternative dispute resolution and how a lawyer's ability to try a case impacts their ability to obtain favorable pre-trial resolution.

PRESENTERS:

Michael Murphy
Murphy Schmitt Hathaway
Winn Sammons
Sammons ADR, LLC
Burr Udall
Udall Law Firm, LLP

IV. Expert Witnesses: When and How to Use them



This presentation will focus on the process of identifying issues requiring expert testimony, identifying and selecting an expert, whether to take an expert's deposition, and how to effectively present expert testimony at trial.

PRESENTERS:

Tom Burke
Udall Law Firm, LLP
Randy Papetti
Papetti Samuels Weiss, LLP
Mick Rusing
Rusing, Lopez, & Lizardi Attorneys at Law

V. Litigating and Trying Civil Cases With Criminal Ramifications



This presentation will focus on issues trial lawyers face in civil cases with parallel criminal proceedings. Issues to be discussed will include how and when the Fifth Amendment can be invoked and the consequences of doing so, use of grand jury transcripts, the effect of a criminal plea on a civil case and what Fourth Amendment protections are available in civil trials.

PRESENTERS:

Hon. Randall Warner
Maricopa County Superior Court
Tom Henze
Henze Cook Murphy, PLLC
Michael Piccarreta
Piccarreta Davis Keenan Fidel, PC
Phillip Stanfield
Jones Skelton & Hochuli, PLC
Laura Udall
Laura E. Udall, PLLC

VI. The Ethics of Professional Conduct: In and Out of the Courtroom





This presentation will discuss ethical professional interaction in litigation and trial.



PRESENTERS:

Hon. Timothy Thomason
Maricopa County Superior Court
Hon. Tom Zlaket
Thomas A. Zlaket, PLLC
Philip Gerard
The Cavanagh Law Firm
Lonnie Williams
Stinson LLP
VII. Ethical Strategy: How Trial Lawyers Can Avoid Bar Inquiries



All cases involve many strategic decisions. This section will address how to ethically implement those decisions from intake through trial.



PRESENTERS:

Hon. James Teilborg
United States District Court, District of Arizona
Peter Akmajian
Schmidt Sethi & Akmajian
Michael O'Connor
Salt River Project
Jeffrey Willis
Snell & Wilmer, LLP