2021 AZ Evidence Reporter - Cumulative Edition
by The Honorable Crane McClennen, Judge of the Maricopa County Superior Court (ret.)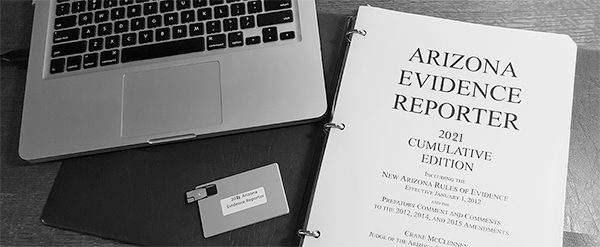 Keep a copy with you in court and have access to answers for any AZ evidence question that arises.
This is the annual update on all evidentiary decisions - civil and criminal - from the Arizona Court of Appeals and Supreme Court - 1999 through 2020. Know how the courts answered the questions:
Is it relevant?

Is it hearsay?

Is it privileged?

And much more...
The 2021 Reporter is organized so that abstracts of the decisions correspond to the appropriate Rule of Arizona Evidence by rule and paragraph by paragraph, making it easy to find the decisions you need.
2021 AZ Evidence Reporter is available in digital format on a FLASH DRIVE!
$99 print/hard copy | $150 flash drive/digital copy | $200 digital + print copies